Description
Aruflam Oil, a combination of 9 ayurvedic plant extracts, is useful for reducing pain throughout the body. whether it be the joints, shoulders, legs, back, or muscles. To ensure that you receive efficient pain treatment in a secure way, all of the substances are extracted naturally and are of the highest calibre. The active components in Aruflam Oil help to relieve body aches and muscular pains by promoting blood circulation and loosening up tight muscles and limbs. By lowering swelling, it is also beneficial in the treatment of excruciating joint pain. This oil's quick absorption composition and good spreadability ensure that pain is quickly relieved, especially for people with chronic diseases.
Uses
Aruflam Oil is a 100% Ayurvedic formulation that treats pains and inflammations of the muscles and joints.
It helps to reduce uncomfortable swellings, joint discomfort, muscular pain, and body aches.
Aruflam Oil helps to improve the blood flow and enhance the mobility and elasticity of the joints.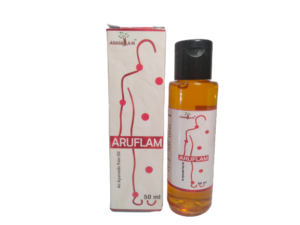 Key Ingredients and their Benefits
Gandhpura Tail : Gandhpura oil contains between 85% and 99% of methyl salicylate, which works as a topical analgesic to treat musculoskeletal pain from both arthritis and sports injuries.
Mahanarayan Tail : A very well-known herbal oil called Mahanarayan Taila is used to relieve joint discomfort and to build up the muscles. It is a highly effective treatment for all forms of arthritic illnesses and lowers joint inflammation.
Panchgun Tail :It effectively relieves sprain pain, lessens joint pain, and facilitates simple movements. It is excellent for treating rheumatoid arthritis. reducing joint discomfort, inflammation, and redness.
Mahamash Tail :Mahamasha taila is a potent Ayurvedic oil that is applied topically for all forms of oil therapies, including massage, dhara therapy, and shirovasti. It is also employed to lessen pain brought on by forceful trauma. Multiple joint aches and pains in the hands, legs, head, and neck might be relieved with its treatment.
Kapoor Oil : Camphor stimulates nerve endings that reduce symptoms like pain and itching when topically applied to the skin. Camphor may also used for treating acute pain.
Benefits
Aruflam oil is a natural oil therapy that treats various painful conditions to give long-lasting relief.
The natural ingredients found in Aruflam Oil gets quickly absorbed deep into the skin to stimulate blood circulation and relieve pain.
Til oil in this product helps with mild to severe pain.
Gandhapura and Nilgiri found in the product are powerful in relieving muscle and joint discomfort.
How to Use
Pour 5 to 10 ml of Aruflam oil over the affected areas of the body, including the muscles, legs, neck, shoulders, joints, and back. Gently massage the area. Avoid directly rubbing the painkilling oil onto any cuts or sores. Use the product at least twice each day, or as your doctor instructs.
Safety Information
Store it in a cool and dry place.
Keep it away from direct sunlight.
Avoid contact with your eyes. Rinse with cold water in the event of contact with your eyes.
Keep it away from children.
Replace the cap tightly after use.
Side Effects
Due to its lack of side effects, Aruflam Oil is one of the best ayurvedic oils for knee joint pain.
The oil is produced entirely of natural components and poses no health risks to your body.
Use Aruflam Oil under the recommendation and instructions of a physician.