Description
Arulax Tablets are an ayurvedic formulation that helps with persistent constipation and stomach disorders such as acidity and gas. Ingredients include svarnapatri, Saunf, Harad, Baheda, Mulethi, and others. It facilitates bowel movement and relieves stomach discomfort. With these tablets, you can now get relief from stomach problems and constipation.
Uses
Constipation and related disorders such as gas, acidity, and flatulence are relieved quickly.
Aids in regular and smooth bowel motions.
Reduces pain and cramping in the stomach.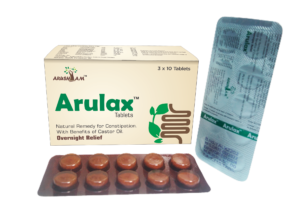 Key Ingredients and their Benefits 
Svarnapatri : Senna is also known as Indian senna, or Swarnapatri in Sanskrit. It's utilised for a variety of ailments, including constipation. Senna's Rechana (laxative) property, according to Ayurveda, aids in the management of constipation.
Saunf : Saunf's fibre increases bulk and aids with easy bowel motions. Seniors who suffer from constipation might chew on fennel seeds after meals or drink Fennel Tea to reduce their discomfort.
Harad  :Because of its Rechana (laxative) properties, Harad can aid with constipation if formed into a paste and consumed at night. Harad's Deepan (appetiser) and Pachan (digestive) characteristics aid in the removal of toxins from the body and keep the digestive system on track.
Baheda :One of the most essential herbs for relieving constipation is baheda. This is because to its laxative (Rechana) properties. It has a calming and lubricating effect on the digestive tract and aids with stool evacuation.
Mulethi :Mulethi is a helpful cure for constipation, acidity, heartburn, stomach discomfort, digestive system inflammation, and gastroesophageal acid reflux due to the presence of glycyrrhizin and its component, carbenoxolone. Mulethi is also a mild laxative that aids in bowel motions.
Benefits of Arulax Tablets 
Constipation is relieved immediately.
Provides relief from stomach cramps.
It has no addictive properties and is completely safe to use.
A unique mixture with seven ayurvedic components.
Helps with regular bowel motions while providing relief from acidity and gas.
It makes you feel good and keeps you active.
How to Use 
1-2 tablets at bed time with lukewarm water or as directed by physician.
Safety Information
Don't exceed the recommended dose.
Read the label carefully before use.
Store in a cool and dry place.