Description
Ayurvedic Kidney Stone Medicine Arustone Capsules is an Ayurvedic remedy for kidney stones. It works as a detoxifier and helps with other urinary tract and renal problems. The natural and Ayurvedic elements in Arustone Capsules aid in maintaining excellent health by naturally treating harmful problems in the body.
Ingredients 
Varun
Kulthi
Apamarg
Pashan Bhed
Gokshura
Yav
Punarnava
Kalmi Shora
Chharila
Ikshumool
Benefits
Punarnava is one of the main constituents of Arustone Capsules, and it helps to improve digestion, urinary function, and body cleansing.
Varun is one among the herbs that aids in the breaking down of renal calculi and the reduction of stone size.
Arustone Capsule is used to treat urinary disorders such as kidney stones and infections.
It aids in the treatment of constipation and gastrointestinal issues.
It aids in weight management and speedier digestion.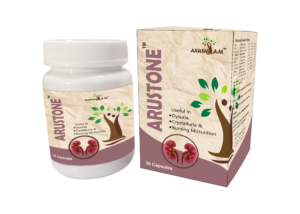 Use of Arustone Capsules
Solves UTIs, painful urination, kidney stones, and other serious kidney problems.
Aids in optimal urinary tract and kidney function.
Toxins are removed from the body.
How to Use
One capsule of Arustone Capsules should be taken two times a day after a meal.
For at least three months, take these capsules (recommended course).
Safety Information
These capsules can be used 36 months from the manufactured date.
Keep the capsules away from direct sunlight.
Store in a relatively dry and cool place.
Place it away from the reach of kids.