Description
Livrush is an ayurvedic treatment for a healthy liver that is made from many medicinal herbs and protects your liver from numerous hepatotoxins, as suggested by Indian Ayurveda. Hepatotoxins are compounds that can harm the liver, such as heavy metals and synthetic chemicals.
Benefits of Livrush
Keeps  liver healthy
Protects liver from damage caused by hepatotoxins
Made using natural herbs such as Bhumiamla, Guduchi etc.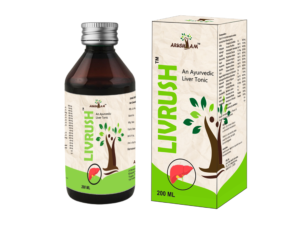 Key Ingredients
Bhumiamla : Bhumiamla helps in managing liver disorders and reverses any damage caused to the liver due to its hepatoprotective, antioxidant and antiviral activities.
Kalmegh : Kalmegh might be beneficial in the management of liver problems. It has antioxidant, anti-inflammatory and hepatoprotective properties. It prevents the damage of liver cells caused by the free radicals.
Pittpapda : Pittpapda can be used in various diseases like burning sensation, fever, vomiting, hemorrhage, ulcers, etc. Secondary metabolites of Pittpapda can be used in diabetic retinopathy. Extract of fractions of Pittpapda shows both protective and curative effects on Liver diseases.
How to use Livrush
10ml twice daily or as directed by the physician
Safety & Precaution 
Store in cool & dry place.
away from direct sunlight
Do not refrigerate
Keep all medicines out of reach of children