Description
Kanth Madhu is an Ayurvedic cough syrup made entirely of natural ingredients that have long been used in Ayurveda to treat dry &  ineffective coughs.
It is an anti-inflammatory ayurvedic cough syrup that is one of the safest ayurvedic medicines for cough and other respiratory problems like a cold. It is effective for all sorts of Ayurveda dry cough treatment, whether acute or chronic. Apart from being an effective ayurvedic cough syrup for dry cough, it also helps patients with a sore throat and flu-like symptoms. This ayurvedic remedy for sore throat can help you receive relief from a wide range of allergy symptoms that cause respiratory distress.
Because it is high in antioxidants, this ayurvedic cough syrup can also be taken by children. The ayurvedic treatment for dry cough and sore throat is made up of powerful herbs that help clean the airway passages so you can breathe easier and feel better. Kanth Madhu is a terrific natural option if you're looking for an ayurvedic cough treatment. It is generally referred to as the greatest ayurvedic treatment for cough and cold because it relieves all types of cough and cold irritations.
How to Use Kanth Madhu
1/2-1 teaspoonful thrice daily or as directed by the physician.
1-2 teaspoonful thrice daily or as directed by the physician.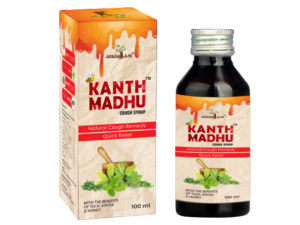 Benefits Of Kanth Madhu
The syrup helps to improve acute and chronic cough by removing phlegm and reduces inflammations in respiratory tract.
It facilitates fast and effective cough relief for both children and adults.
Kanth Madhu contains herbs which are proven anti-allergic and helps relieve allergic symptoms like persistent cough and cold.
The ingredients helps in bronchial-relaxation and expelling the phlegm effectively.
The active ingredients in Kanth Madhu are free from alcohol and narcotic substances and so does not cause sedative effects, drowsiness or drug dependence.
Acts as a good pacifier and helps decrease aggravated levels of Kapha dosha.