Description
Prinita is a potent liquid formulation of Ayurvedic herbs that acts as a renewing and nourishing female uterine tonic for women. It is used to treat all gynaecological ailments as well as female reproductive health issues. In Sanskrit, the herb name "Asoka" means "to be rid of pain and misery, both physically and emotionally," which reflects the herb's exceptional efficiency.
Prinita works to improve women's overall health by addressing the problems that they face throughout their lives. Premenstrual syndrome (PMS), leucorrhoea, amenorrhea, oligomenorrhea, dysmenorrhea, early stages of PCOD, early stages of endometriosis, and postmenopausal symptoms are all treated with this drug.
It strengthens the uterus, enhances ovarian function and reproductive health, relieves menstruation problems and heavy bleeding, decreases period discomfort, cures leucorrhea (white discharge), and controls and maintains the female hormonal system.
It is a well-known Ayurvedic tonic for women that promotes general physical and mental health throughout life. It aids digestion and the immune system, treats anorexia, relieves constipation and stomach cramps, and is also used to treat bleeding piles (Hemorrhoids).
Key Ingredients 
Ashoka : Ashoka helps to manage various gynecological and menstrual problems in women such as heavy, irregular                     and painful periods.
Lodhar : Remedies Gynecological Anomalies, Fights Respiratory Issues, Relieves Liver Anomalies, Augments Skin Health, Manages Diabetes, Prevents Ulcers, Corrects Epistaxis &  Promotes Digestion.
Guduchi : It is also known as Giloy, is an important power herb for women. It is rich in antioxidants and also possesses anti aging properties.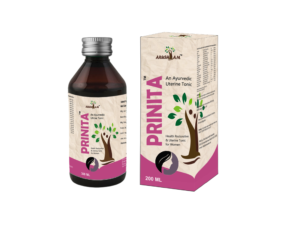 Benefits of Prinita:
Treats Gynecological Disorders.
Enhances physical and mental well-being.
Relieves in painful & excessive uterine bleeding.
Treats pre & post-menopausal syndrome.
Supports in balancing female hormones.
Improves digestive health & strengthens immunity.
Promotes a comfortable & regular menstrual cycle.
Cures leucorrhea (white discharge).
Rejuvenates & nourishes the reproductive system.
Treats Infertility & increase libido power.
Relieves constipation & abdominal cramps.
Treats anorexia & bleeding piles (Hemorrhoids).
Improves vigour and vitality.
How to Use Prinita 
10ml twice daily or as directed by physician.
Storage & Precaution
Store in a cool and & dry place, away from direct sunlight.
Keep out of reach of children
Do not refrigerate