Description
Raktactiv Blood Purifier is an ayurvedic syrup for pimples and glowing skin that purifies blood to offer you pimple-free skin with a natural glow, as advised by Indian ayurveda. Its natural formulation works from the inside out to purify blood and destroy bacteria, resulting in cleansed blood and a reduction in pimples and other skin problems.
Blood purification is a vital procedure for cleansing the blood and removing contaminants. The liver, kidneys, spleen, and lymphatic system all help to purify the body naturally. Toxins in the bloodstream, such as pharmaceuticals, heavy metals, alcohol, and other substances, are naturally removed. This occurs naturally in a healthy person. When a person's health is compromised, the natural detoxification process is hampered. As a result, there is a requirement for blood purification. Taking a herbal blood purifier tonic is one of the finest ways to assist in the blood purification process. Raktactiv is an Ayurvedic medication that aids in blood purification.
Benefits
It promises start of action within 2 weeks
Prevents pimples from recurring
Pimple free skin with natural glow
Safe and efficient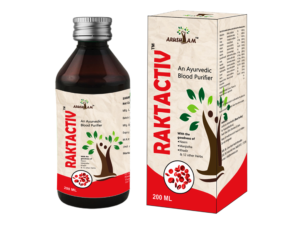 Key Ingredients and their Benefits
Manjistha: It is helpful to the health of the skin. It possesses anti-inflammatory and analgesic qualities and functions as a rejuvenator.
Khadira: Known for its blood purification properties. The name Khadira literally translates to the one that destroys disease and brings stability to the body.
Neem: It reduces scars, heals wounds, treats acne, and minimises warts and moles while treating dry skin and wrinkles.
How to Use :
10ml twice daily or as directed by the physician.
Safety & Storage Information
Store in cool & Dark place, away from direct sunlight.
Keep out of reach of children.
Read the label carefully before use.
Do not exceed the recommended dose.
Keep out of the reach of children.