Description
When tissues and veins become inflamed and swollen, they form piles or hemorrhoids. Persistent constipation, chronic diarrhea, lifting heavy weights, pregnancy, or straining when passing a stool can all produce increased pressure in the lower rectum. Hemorrhoids can also be caused by family history, temperament, climate, or the suppression of bleeding. Pile illness affects both men and women, and it affects about 40% of the world's population.
Pilerroids Ointment is an ayurvedic drug that cures piles completely. It helps to halt bleeding, itching, bumps, and pain. This is the most effective therapy for haemorrhoids. It provides a lasting solution for piles that is free of adverse effects.
Use Pilerroids Ointment along with Pilerroids Capsules It will cure the Piles much faster.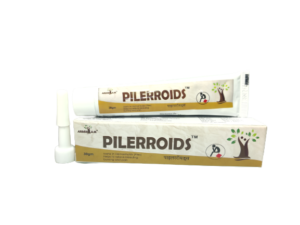 Key Ingredients of Pilerroids Oinment
Chitrak
Neem
Henna
Bhringraj
Vacha
Makoy
Nirgundi
Karpura
Til oil
Benefits
Get rid of your discomfort, itching, and burning in a way you've never experienced before.
It stops the bleeding totally.
Lumps will begin to diminish and eventually disappear.
It works as an astringent to minimize pile swelling.
It has astringent effects, and relieves discomfort in the Piles. Internal bleeding is also stopped.
Ideal for intestinal cleansing, blood detoxification, and antioxidant protection.
How to Use 
Please consult your physician to prescribe the dosage that best suits the condition.
Safety & Storage Information
Read the label carefully before use
Do not exceed the recommended dose
Keep out of the reach of children
Should be protected from direct light